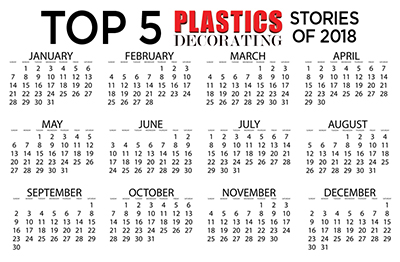 While work on the first issue of 2019 is well underway, we paused to see which Plastics Decorating articles caught the eyes of our readers in the last year. With archived stories going as far back as 2000, the website is a valuable resource, and the following stories were the top reads for visitors to the website in 2018.
1. Soft-Touch Paint Gaining Market Share
It seems that end users spanning across multiple industries just can't keep their hands off soft touch. So much, in fact, that according to a study by Future Market Insights, "The global soft-touch polyurethane coatings market is expected to expand at a compound annual growth rate of 7.2 percent from 2015-2025." So, what is so special about soft touch?
2. When Vibration Welding is the Best Choice
Vibration welding has been a process of choice for quite some time in applications that have complex geometries, especially for materials that are difficult to weld, such as glass-filled nylon, polypropylene and polyethylene. Typical applications include, but are not limited to, automotive air conditioning ducts, power steering and brake reservoirs, air intake manifolds, appliance pump housings, rinse dispenser housings, chain saw housings, leaf blower housings and toys.
3. A New Look at an Old Technology: Water Transfer Printing
Even though the technology for water transfer printing has been around for more than 40 years, the process began creating mass appeal in the last 10 to 15 years. The technology sometimes is referred to by other names, including hydrographics, hydro dipping or hydrographic printing. Whatever the name, the process is the same – a high-definition, 4-color graphic pattern can be transferred to many complex 3D shapes using a water-soluble film.
4. 2018 Trends in Automotive Plastics
Experts from the technical and decorative sectors provide insight on what to expect in 2018. Here are five areas to watch: interior and exterior decor, autonomous vehicles, antimicrobial plastics, 3D printing and lightweight design.
5. Using Decorative Film Laminates with In-Mold Decoration to Increase Design Flexibility
Consumers continue to place more requirements on OEMs as they demand higher levels of product differentiation, while also expecting low prices. OEMs, in turn, expect their plastic component suppliers to provide them with innovative methods of meeting customer expectations, while under intense cost pressures and operating "lean" and "green." One method of meeting these needs is to use decorative film laminates.