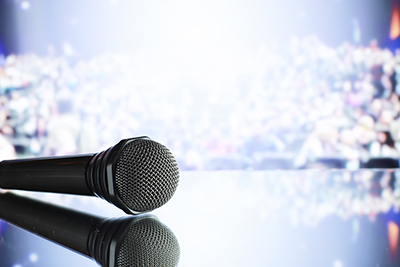 If an industry or endeavor exists, a convention or tradeshow is associated with it.
Paper manufacturing and printing? They've got Odyssey and PRINT. Computer hacking? For them, it's DEF CON. Plastics manufacturing? PLASTEC and ANTEC and the MAPP Benchmarking Conference. Cannabis entrepreneurs? MJBizCon. How about plastics decorating? ANTEC and InPrint and TopCon. Roller derby girls? RollerCon. Specialty coating and curing? InPrint and PRINT and the RadTech meeting.
So, they're out there, all right. But why go?
Aren't these things passé? Is there anything new to see in the industry? Hasn't the internet replaced conventions and tradeshows by now? No, yes and no.
There are two overarching reasons to attend tradeshows and conventions: to connect and to learn. Here are five examples of the kind of worthwhile connecting and learning offered by these events.
1. Learn at an overview level
Attending shows and conventions is a great way to scope out the state of the industry and see what the competition is doing.
Whether drinking in details of the newest industry product or technique, noticing an emerging trend among the exhibits or eyeing what the competition is up to, there's bound to be inspiration.
It might lead to a new market, something fresh to produce or a way to improve existing operations.
Here's how an astute blogger puts it, "As a business leader, if you actively avoid gaining new ideas – by being a curmudgeon about conventions, for example – you are okay with your business and team remaining stagnant."
Don't stagnate – participate.
2. Connect with vendors and suppliers
Yes, everything is on the internet now. Everything, that is, except real in-the-flesh interaction. Even internet gurus recognize the value of human connections in the business world, as reflected in these pithy quotes:
"You can't outsource relationship building." – Scott Stratten
"Don't build links. Build relationships." – Rand Fishkin
Conventions and tradeshows are excellent places to meet new vendors. That first meeting may just be a "meet and greet" on a day overflowing with other introductions, but it's hard to top the value of a face-to-face start for a new business relationship.
These events also are opportunities to strengthen relationships with existing vendors. That might be as simple as reaffirming a good partnership. Or it could be a chance to briefly discuss how to work together in a better or more economical way. It might be a friendly talk that sparks the idea for a brand new business avenue.
Whether making new connections or refreshing old ones, do it in person and keep the relationships real.
3. Learn about a particular subject
Tradeshows and conventions always serve up a menu of presentations, classes and breakout sessions. Sitting in on these is an easy way to soak up information while the passionate speakers talk about new ideas, better technologies or best practices.
The people at the podium aren't the only ones in the room with valuable insights. Try turning to the person in the adjacent seat: Make the acquaintance of an industry colleague who just might be in a position to inspire, inform, refer or collaborate.
4. Connect with coworkers
For companies that can send a few delegates to a show, the team-building benefits of the experience can be worth the cost in time and money.
There's nothing like a few days off-site for team building.
Forbes Council contributing author Tara Cohen puts it this way: "Investing in a few great events a year can help keep a team engaged and informed while fostering outside-the-box thinking and valuable relationships."
5. Learn about a fix for a specific problem
Since they are filled with industry leaders and experts, conventions are terrific places to get valuable advice on a variety of topics.
Chat with an exhibitor about that stubborn problem. Raise an on-topic question during an educational session. Or, for a more relaxed conversation, ask for suggestions from a speaker at a post-session cocktail hour or event dinner.
People love to share their expertise and experiences, especially when they think they are truly being helpful. So chat them up.
Don't be a curmudgeon. Take advantage of tradeshows and conventions to learn, connect and grow.