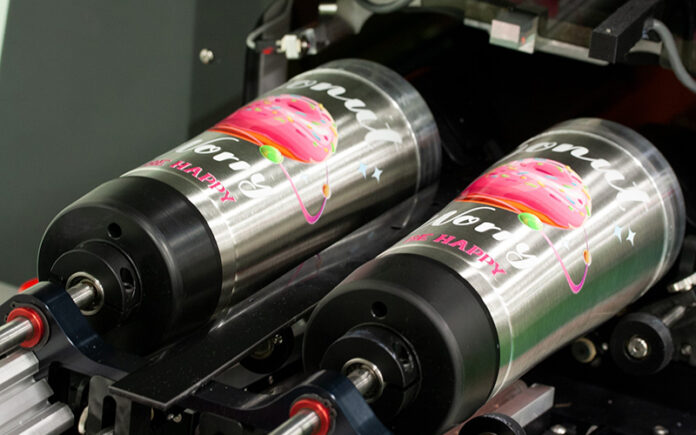 The Double Helix® cylindrical inkjet printer is the latest addition to the successful Helix® Digital Cylinder Printer line from Inkcups, Danvers, Massachusetts, a supplier and manufacturer of inkjet printing equipment, pad printing equipment, laser plate-makers, inks and supplies.
This new UV cylindrical printer features two print fixtures for double the production volume. With this increase in speed, this machine is best geared toward industries where production runs are medium to high including the drinkware market, barware market, spirit market, craft brew market (including cans and bottles), candle market and more. The cylindrical inkjet printer is capable of printing two of the same parts simultaneously with the same artwork.
As with its standard counterpart, the Double Helix® was designed to print full-color (CYMKWW+V) images on straight-walled and tapered cylinders. Achieve design techniques such as mirror print, tip-to-tip printing, spot varnish and more at extremely high-quality color reproduction. The Double Helix® utilizes patented Helix® technology in combination with the best print head technology to deliver 7-picoliter of ink droplets precisely along the surface of the vessel while it is spinning at a high rate. Print two parts up to 12 in. (305 mm) in length and artwork up to 8.6 in. (220 mm) in length.
Part or tooling changeover is just as simple as the flagship Helix® but is doubled. Still the fastest in the industry, part changeover with the Double Helix® takes less than 10 minutes from start to finish. The automatic height adjust makes it easier than ever to ensure your part is at the right angle to print flawless graphics. Inkcups offers a custom tooling service for all customers to perfectly fit the Double Helix® to get users up and running quickly. The company takes dimensions of customers' products, develops the concept, proves it out, creates the tooling and tests it. Its custom tooling team is well-versed in many substrates and, in combination with their Helix® knowledge, are able to create the best fixture per part.
The Double Helix® cylindrical inkjet printer accepts all UV inks by Inkcups. Add transparent pin curing (TPC) in combination with Inkcups' patented MagiCoat® Pre-Treatment Solution and DL UV inkjet ink for glass to get the best adhesion to glassware, barware, spirit bottles, beer bottles and more. This full solution ensures printhead longevity, as well as a sanitary process from start to finish.
For more information, visit www.inkcups.com.