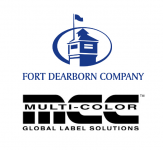 Clayton Dubilier & Rice (CD&R), New York, New York, has announced a definitive agreement under which CD&R funds will acquire and combine Fort Dearborn and Multi-Color Corporation. This acquisition hopes to create the world's largest label solutions company serving customers worldwide.
"We see strong strategic logic and promising value creation potential in bringing these two leading label manufacturers together," said Nate Sleeper, CD&R chief executive officer.
The combination of Fort Dearborn and MCC will create a diversified platform across label technologies, end categories, geographies and customers. It will serve a diverse mix of customers active in a number of end categories, including wine and spirits, food and beverage, beer, and home and personal care. The acquisitions and merger are subject to customary closing conditions and are expected to be completed by the end of 2021.
For more information, visit www.cdr-inc.com.