It's hard not to notice that the world is going digital, and that increasingly applies to manufacturing – including industrial printing and decoration. Leading market forecaster I.T. Strategies estimated the global digital industrial and production print retail revenues to print providers growing from just over $35 billion in 2017 to more than $42.5 billion in 2021. This includes applications such as décor, product and surface decoration, deposition and incorporation of functional materials into products, complex multi-process 3D product manufacturing applications, security printing, packaging and labeling. While plastics decoration is only a small percentage of this total, each of these application areas includes printing on plastic substrates and represents additional opportunities for the plastics decoration industry.
Whether companies have already implemented digital inkjet printing or plan to in the future, there is a need for the plastics industry to expand its expertise to better understand inkjet technology's capabilities and the opportunities that it provides for expanding production capabilities and increasing profitability.
While inkjet has been called a disruptive technology by some, it also can be called an enabling technology. As defined by Harvard professor Clayton M. Christensen in his 1997 best-selling book, Innovator's Dilemma: Management of Innovation and Change, a disruptive technology is a new, emerging technology that unexpectedly displaces an established one. He defined new technologies as either disruptive or sustaining (well-known technologies that undergo successive improvements), which better describes inkjet technology.
Inkjet technology has been commercially available since the mid-1970s. Successive improvements have enabled its progression from simple marking and coding applications to today's applications ranging from full-color production print to product decoration to 3D product printing/production to bioprinting and more. Clearly, the future of inkjet technology is bright in a wide array of industries and applications, including plastics decoration and other printing applications on plastic substrates.
Inkjet printing is commonly being utilized for decorative printing on many plastic substrates in various forms. All the basic inkjet technology categories are being utilized for a wide variety of plastics decoration and plastics substrate printing with a variety of printheads, ink chemistries and plastic materials. The largest applications are printing on various rigid and flexible plastic substrates for graphic arts, signage, POP displays, vehicle wraps, packaging, direct-to-object, etc.
The recent introduction of inkjet print systems offering printing onto cylindrical and other typical container/product shapes is hastening inkjet's adoption in plastics decoration applications. Typically, UV inkjet is the most prevalent technology of choice utilizing either conventional or LED lamps. Custom designed inkjet systems utilizing customized ink developments, robotics for product positioning, pre- and post-print treatments, etc. are becoming more common and result in expansion of the plastics decoration applications.
Understanding the fundamentals is a prerequisite to any development. All users – current and potential – must understand the basic theory of all the diverse types of inkjet technology in use today. They must learn how the printheads work, what materials are used in their fabrication and the theory of operation, as well as learning about inks and media, how they are formulated and the supply/support systems necessary for successful implementation.
Regardless of the products being decorated and personalized (aircraft/automotive components, containers, flooring, home décor, packaging, printed electronics, promotional products, etc.), basic surface parameters, ink properties, drying/curing, print quality/durability, product handling, data handling, workflows, etc. must be evaluated and optimized for each application. Thorough understanding of these crucial system aspects is essential for overcoming the challenges of inkjet to achieve successful implementation of inkjet systems in the diverse product decoration landscape.
Why inkjet?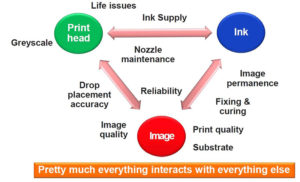 Many factors stimulate the interest in and conversion to inkjet technology for plastics decoration of all types, including:
General attributes of inkjet: Inkjet is a proven, fully digital technology that has evolved from its basic marking and coding roots of the 1970s to current sophisticated systems that provide non-contact, reliable implementations on a wide variety of plastic substrates supporting a wide array of ink chemistries.
Economics: Inkjet is typically more cost-effective than analog decorating systems when including all factors such as smaller hardware size and space, less makeready time and materials, reduced materials consumption, fully digital workflow, lower inventory and warehouse space, etc.
Customization and personalization: Inkjet provides the opportunity to create products and perform operations that provide increased value to the customer and result in more profit for the manufacturer but simply could not be done with analog technologies. With the overall trend toward the ultimate "Market of One," inkjet technology offers the appeal of providing realization of this holy grail.
As with any sophisticated technology, selection and implementation of inkjet technology does require careful evaluation and testing for each specific application. Because most plastic decoration applications involve unique product characteristics, performance requirements, production environments, etc., a thorough qualification process must be conducted prior to implementation.
Each inkjet system involves the complex interaction of many components to provide a reliable long-term solution (see graphic above).
Each of these interactions requires specific technical skills:
Chemistry: Inks/fluids/substrate factors and interactions
Electronics: Drivers, sensors, control loops
Engineering: System design, motion control,
   mechanical control, housekeeping and product feed/
   positioning/finishing
Fluid dynamics: Ink systems
Software: Data flows, printhead control, compensation
While some of the smaller, less sophisticated inkjet systems are essentially prequalified for specific inks and substrates, potential users should have sample trials conducted by the system manufacturer, conduct print quality/durability testing on the resultant printed samples and perform a detailed economic evaluation on the entire system prior to purchase and installation.
For larger and more sophisticated production environment inkjet systems, system evaluation generally needs to be much more extensive and may well require the utilization of an experienced inkjet integrator.
For custom systems, development efforts can be substantial, particularly if the customer requires nonstandard inks and/or substrates and if unique product shapes require specially designed product feed/positioning/handling to enable successful product printing. Common design requirements for custom production systems include detailed printhead evaluation, ink development, surface pretreatments, post processing, robotics product handling, etc.
A typical system development approach (as presented in an IMI Inkjet Innovation Academy course by Integrity Industrial Ink Jet Integration) includes three stages: Feasibility, development and implementation. Each stage needs to be customized to meet the customer's specific needs and the technological variables specific to the application (see graphic below).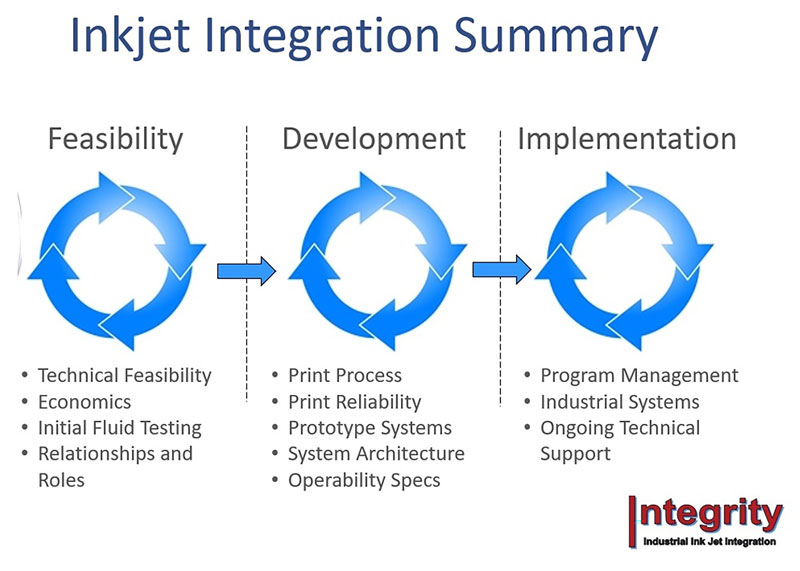 Inkjet printing and decoration systems already have proven to be economical, reliable and profitable for a variety of plastics decoration and printing applications. Current products are increasingly being used, and this trend will continue for the foreseeable future. However, there are new and exciting opportunities being identified based on changing societal factors and developments.
What does the future hold?
Several technologies and trends have been identified as drivers for increased inkjet decoration and production, thus potentially providing opportunities for inkjet technology to expand its role in plastics decoration and production.
3D printing
3D printing is a commonly cited disruptive technology that can utilize plastics as the printing material, and inkjet 3D systems can use polymers as the jetting fluid to build products.
However, based on current 3D printing systems and short-term projected developments, limitations on the decorative features/quality of 3D printed plastic products will restrict this alternative. What is more likely is that 3D-printed plastic products will be decorated by inkjet technologies as a post-processing step utilizing custom-designed robotics systems to position the products for final decoration.
Functional materials
The utilization of functional materials (materials that possess native properties and perform specific functions) in printing systems provides significant opportunities for value-added products. Providing new functionalities within the product decoration (DNA, environmental sensors, graphene, pharmaceutical, printed electronics, security features, smart labeling/packaging features, track/trace, etc.) will all provide increased opportunities for plastic decoration and substrate printing. Adding such functionalities will offer inkjet technology opportunities to achieve its full value proposition plus increased product value and profitability.
Market of one
The "Market of One" concept is defined as "the level of customization and customer service that makes a customer feel as if they are being treated exclusively or are being given preference by the firm."
Utilizing technologies such as smartphones, high speed internet and social media, companies can more easily learn their customers' likes and desires. This information can be used to offer inkjet decorated products customized to an individual user's preferences and needs.
Reshoring
Reshoring (return of manufacturing operations to the US from another country) is a topic of much discussion and is reportedly a recent trend in the manufacturing sector. Motivations for companies to reshore include improved quality control, stronger IP protection, reduced transportation/supply chain costs and increasing labor rates in countries where manufacturing is typically offshored. The true understanding of the total cost of ownership (TCO) is fostering the reshoring movement, which offers new opportunities for inkjet technology in domestic US product decoration markets.
Robotics
Industrial robots consist of jointed structures in various configurations. The structures are achieved by the linking of several rotary and/or linear motions or joints. Each of the joints provides motion that can position the robot structure, or robot arm, into specific positions. To provide the ability to position a tool or product mounted on the robot to any position at any angle requires six joints, or six degrees of freedom, commonly known as six axes.
Allied Market Research forecasts the global industrial robotics market (valued at nearly $38 billion in 2016) to reach over $70 billion by 2023. Robotics have already been implemented into customized inkjet systems for product decoration and with improving robotics technologies and the growing interest in direct-to-shape printing applications. Many new plastics decoration systems can be expected to incorporate robotics technologies.
Sustainable materials
Sustainable materials are materials used throughout the consumer and industrial economy that can be produced in required volumes without depleting nonrenewable resources and without disrupting the established steady-state equilibrium of the environment and key natural resource systems. Such materials vary enormously and may range from bio-based polymers to highly recyclable materials, such as glass, that can be reprocessed indefinitely without requiring additional mineral resources.
There is much interest in bio-based products of all types, including plastics. Bioplastics are plastics derived from renewable biomass sources, such as vegetable fats and oils, cornstarch, straw, wood chips, food wastes, hemp, etc. With the growing global interest in sustainable materials, plastic products made from sustainable bioplastics and decorated with eco-friendly inkjet inks will become increasingly popular. Continued ink and fluids development is considered by many to be the most essential component for inkjet's continued applications diversification and market growth.
In summary, inkjet technology is currently an active participant in the field of plastics decoration with steady growth rates.
With expected continued inkjet hardware and materials developments coupled with advances in supporting technologies, societal trends and changing marketing techniques, the future for inkjet decoration of plastic products and substrates is sure to be bright.
Al Keene founded IMI, Carrabassett Valley, Maine, in 1988 and has served as president since then, organizing nearly 1,000 conferences and courses worldwide focused on digital printing and advanced materials technologies, markets and applications. He is an internationally recognized expert on digital printing technology developments, trends and strategies. For more information, visit  www.imiconf.com.