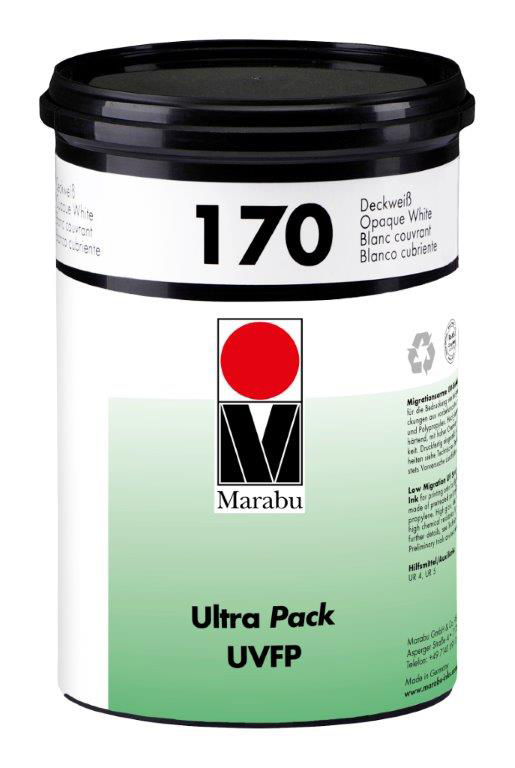 by Lara Copeland, writer, Plastics Decorating
Developer and manufacturer of liquid laminates (clear coatings) and inks for large and grand format digital printing in addition to pad printing inks and other products, Marabu North America is located in Charleston, South Carolina. The company's coatings are formulated for sign, vehicle/fleet graphics, digital printing, fine art printing and a number of display and specialty graphic applications. Recently, its new low-migration ink, Ultra Pack UVFP, was introduced to the market. This new ink can be used on sensitive items.
The Ultra Pack UVFP was engineered for exterior surface printing onto food, cosmetics and beverage packaging made of pre-treated polyethylene (PE) (HDPE/MDPE/LDPE) and pre-treated polypropylene (PP). Since the result depends not only on the ink but also on the substrate and the process conditions, conformity can only be assessed with the finished product. Customers should bear in mind that prior to printing onto PE and PP, the substrate must be pretreated by flame or corona. This process allows the surface tension to rise and creates good adhesion from 44 mN/m.
Just as the manufacturing of sensitive products must meet health and safety regulations, so too must the printing inks used for the outer decoration on these products. The Ultra Pack UVFP, thanks to its low-migration formulation, minimizes the risk of subsequent transfer from the outer decoration through the substrate and into the contents. "UVFP tested to EU 10/2011 and the Swiss Regulation on food contact materials by third-party lab is in compliance," said Marsha McDowell, Marabu's technical director and quality management representative. "There was low migration of chemicals through HDPE and CDPE containers, which is very difficult for UV inks due to photoinitiator," she added.
This UVFP ink offers many benefits to users. As McDowell pointed out, "the UV inks can be used, and the product still can be marketed as low-migration." Additionally, the ink is Bisphenol A (BPA) free. It offers good adhesion and flexible ink film, making it suitable for tubes and water bottles, has high reactivity and good curing for savings on time and costs, and is water- and steam-resistant. The ink also offers ideal shear and flow properties, perfect for printing characteristics for easy handling. The appearance demonstrates brilliant color shades with high gloss and high opacity. "With this ink, there is no need to resort to expensive plastics or glass that don't allow migration," McDowell concluded.
With the ever-increasing need to comply with regulations and meet consumer safety guidelines, the UVFP ink provides customers with a suitable solution. McDowell said Marabu customers have reported positive experiences. "Our customers who use UVFP say it prints well and without any issues." This is fast-curing UV ink for a speed of up to 5,000 bottles per hour; therefore, a UV curing unit (medium-pressure mercury lamp or fusion) of 120 to 200 W/cm is necessary. The ink's curing speed is typically dependent upon the kind of UV curing unit (reflector); the number, age and power of the UV lamps; the printed ink film thickness; the color shade; the substrate used; and the printing speed. Ink adhesion is controlled by tape test after the printed bottles have cooled to room temperature.
The UVFP ink comes in several shades – a variety of yellows, reds, blues and greens, in addition to orange, magenta, violet, white and black. The high opaque shades are opaque white, silicone-free opaque white and opaque black. The silicone-free opaque white is used as pre-print for flexo overprints. All shades are intermixable with the exception of the silicone-free opaque white. Mixing with other ink types or auxiliaries must be avoided in order to maintain the special characteristics of the UVFP ink.